Leviathan and the Budget Deficit
In October 2018, the U.S. government collected more revenue in taxes than any previous October on record. Terence P. Jeffrey of CNSNews reports:
The federal government collected record total tax revenues of $252,692,000,000 in October, the first month of fiscal 2019, according to the Monthly Treasury Statement released Tuesday.

Despite the record tax collections, the government still ran a deficit of $100,491,000,000 for the month—because it spent $353,183,000,000.

This October's record $252,692,000,000 in total tax collections was $11,414,590,000 more than the $241,277,410,000 (in constant October 2018 dollars) that the federal government collected in October 2017, which was the previous record for federal tax collections in October.
Overall, that record amount of October's tax revenue failing to shrink the U.S. government's budget deficit is not a surprise because we all know that Uncle Sam has a spending problem.
What was a surprise, however, is that the U.S. Treasury Department has overhauled the graphics that it provides in its Monthly Treasury Statements with its October 2018 edition.
That's a positive step because they've developed an excellent visualization of where the U.S. government gets all the money it spends and how it spends all that money each month using a Sankey diagram. Here's the key graph from the Treasury Department's October 2018 statement.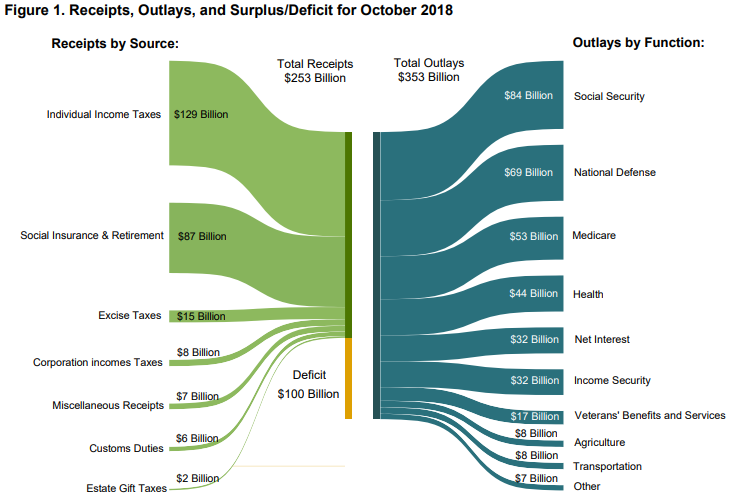 This is a brilliant presentation because not only does it communicate how much money is flowing through the U.S. Treasury, it doesn't take much additional imagination to visualize the U.S. government as a continuously feeding, yet insatiable multi-headed monster. I wonder if this is the kind of image that Robert Higgs had in mind when he wrote Crisis and Leviathan and Against Leviathan.