Cesar Chavez: Sanctuary City Hero or Bully?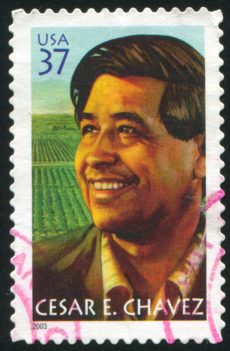 Oakland Mayor Libby Schaaf yesterday declared her willingness to go to jail to protect her "sanctuary city" policy, attacking the "bully in chief" for "trying to intimidate our most vulnerable residents," i.e., undocumented migrants.
She may want to rethink Oakland's continuing to pay homage to an earlier bully against would-be immigrants: namely, the Cesar Chavez Educational Center, Cesar Chavez Park, Cesar Chavez Branch Library, and Cesar Chavez Soccer Field.
Regularly using such terms as "wetbacks," "wets," "scabs," and worse in describing illegal workers*, Chavez initiated a well-organized "Illegals" campaign that included paying Mexican border guards to stop Mexicans trying to cross the border, patrols on the U.S. side of the border by United Farm Worker (UFW) thugs, and reporting undocumented immigrants to the Immigration and Naturalization Service (INS).
Mayor Schaaf and others (including I) rightly deplore the Obama and Trump administrations' policy of separating children from their parents, but we ought not at the same time celebrate the man behind arguably worse "wet lines" practices along the border: "County, state, and federal officials gave the UFW a free hand in this wilderness. No judge's order put any limit on what the union's night patrol might do to people it caught, nor did Mexican authorities in the cities of San Luis, Sonora, or Mexicali provide any protection to those who tried to cross illegally. If you got picked up by the UFW, you were on your own."
So rather than erecting monuments and signs enshrining the names of our hero du jour, perhaps we would do better to understand that the value of history is to learn from it—not rewrite it to suit our favored narrative of today. If we do not wish to fulfill George Santayana's prophecy that "Those who cannot remember the past are condemned to repeat it," we need to accept that those who went before us, as we, are human, subject to foibles, inconsistencies, and peccadillos, rather than erasing the record wholesale.
And perhaps in the process we might also wish to rethink our current certainty that we have advanced so greatly that we have now achieved the pinnacle of enlightenment from which we can judge who among us today is to be lionized and who condemned.
********
*Those who would defend Chavez admit he used such terms, but provide the excuse "Sometimes they'll dig up 40- or 50-year-old news clips where he uses the word 'illegal' or 'wetbacks' to describe illegal immigrants. That's just how people talked back then,"—a defense never accorded the currently unfavored.