Medicare, Medicaid and VA at High Risk for Waste, Fraud and Abuse, Says GAO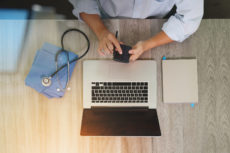 The Government Accountability Office (GAO) has published its biennial update of federal programs "that it identifies as high risk due to their greater vulnerabilities to fraud, waste, abuse, and mismanagement..."
Healthcare programs feature high on the list. Medicare, the entitlement program for seniors, and Medicaid, the joint state-federal welfare program for low-income households, are longstanding members of the list; and the GAO notes that legislation will be required to fix them:
We designated Medicare as a high-risk program in 1990 due to its size, complexity, and susceptibility to mismanagement and improper payments.

We designated Medicaid as a high-risk program in 2003 due to its size, growth, diversity of programs, and concerns about the adequacy of fiscal oversight.
So, that would be 27 years for Medicare and 14 years for Medicaid. Seen any progress?
This is the second time the Veterans Health Administration has made the list of high-risk programs:
Since designating Department of Veterans Affairs (VA) health care as a high-risk area in 2015, we continue to be concerned about VA's ability to ensure its resources are being used cost-effectively and efficiently to improve veterans' timely access to health care, and to ensure the quality and safety of that care.

Although VA's budget and the total number of medical appointments provided have substantially increased for at least a decade, there have been numerous reports in this same period of time—by us, VA's Office of the Inspector General, and others—of VA facilities failing to provide timely health care. In some cases, the delays in care or VA's failure to provide care at all reportedly have resulted in harm to veterans.
As I noted in a recent op-ed that was widely syndicated, this problem cannot be fixed by the federal government and the system should be privatized.
It should also be noted that "Ensuring the Security of Federal Information Systems and Cyber Critical Infrastructure and Protecting the Privacy of Personally Identifiable Information" has been on the GAO's high-risk list since 1997. Recent breaches of federal databases have brought the issue to the public's attention.
Despite its failure to secure its own data, the federal government has had the temerity to try to impose a standard Electronic Health Record onto all the nation's hospitals and doctors' offices.