Government Hubris, AI Central to Mission Impossible: Dead Reckoning Part 1
Dead Recking Part 1 has excellent chase scenes, sci-fi threat, great acting, and a thin plot
The long anticipated seventh film in the Mission Impossible movie franchise, Dead Reckoning Part 1, finally made it to the big screens in the U.S. All indications are that Tom Cruise (Ethan Hunt) and his co-stars will easily make back the movie's nearly $300 million production budget. The movie's plot-driven action will keep audiences engaged throughout while government and AI (Artificial Intelligence) skeptics will be more than satisfied as well.
Audiences, however, may find the opening scenes challenging. New characters are added in a dizzying array in an already character-rich story pulled forward from previous movies. The characters establish multiple subplots and motivations that can be hard to follow. When these new characters and subplots merge with characters from previous movies, all the elements seem like fast-moving parts.
AI and Government Hubris Centers Story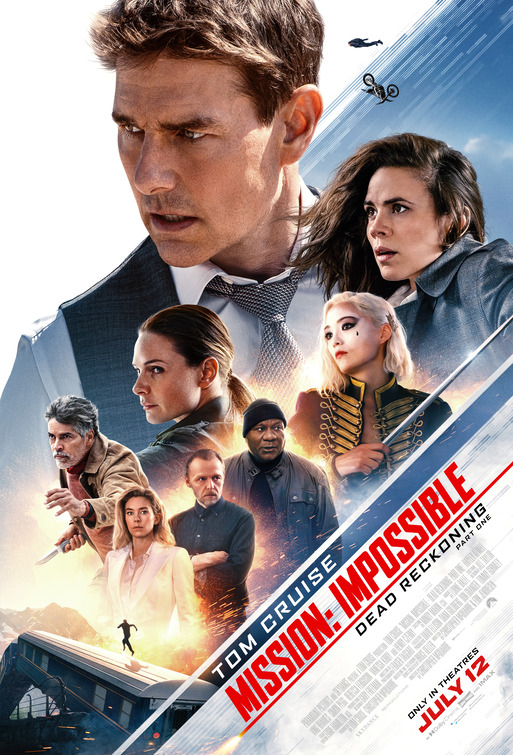 Add in a story that focuses on an all-encompassing AI called The Entity, which makes Hal (2001: A Space Odyssey) and Skynet (Terminator film franchise) seem like toddlers, and audiences—like our IMF heroes—won't know what's real and what's not. But that is likely the desired dramatic effect.
Indeed, Dead Reckoning is landing at almost an ideal time to take advantage of rapidly growing public debate and expanding controversies around AI. This version of Mission Impossible escapism may not now seem as fanciful as it might have in the writers' room in 2019 when the film was announced. Fortunately, Dead Reckoning is a movie, so none of it is real.
Also, fortunately, Dead Reckoning Part 1 doesn't dwell too much on the science.
Director Christopher McQuarrie (Top Gun: Maverick, Mission Impossible movies Rogue Nation and Fallout, Jack Reacher) does not let the subject get in the way of a good action film.
All we really need to know is that the Entity is bad, governments trying to harness The Entity have bad motives and are largely incompetent, and our rogue IMF heroes are trying to do the right thing. Like other MI movies, the plot and dialogue serve mainly to connect action scenes and sequences to keep the pace moving quickly forward.
Fast-Paced Action Keeps Movie Moving
But Dead Reckoning includes its share of art and cleverness.
While many people are likely familiar with the widely released (and watched) trailer that shows Tom Cruise riding a motorcycle off a cliff—something he really did—Part 1 is full of more inventive action scenes.
One of the highlights is a chase scene involving Ethan Hunt and his new sidekick, a thief named Grace (Hayley Atwell), in a Fiat 500. The Fiat 500 is a tiny car—a sub-subcompact by American standards—which creates plenty of opportunities for humor.
Grace and Hunt are forced to escape together, and the claustrophobic space, combined with the adrenaline of pursuit, puts their personalities, skills, and objectives in conflict. Ethan Hunt also becomes befuddled as he tries to make sense of the Fiat's tricked out capabilities. The filmmakers make good use of the vehicle and its technology to explore the personal dynamics between Hunt and Grace as well as navigate the narrow, serpentine alleys of Rome, Italy.
Top-Flight Acting Lifts Movie
Since this is Part 1 of a two-movie story arc, McQuarrie and his co-writer Erik Jendresen (Band of Brothers, Killing Lincoln) take their time sorting out who lives, who dies, and who is likely to make it to the second film. This works because of the careful attention to detail and the supporting players.
The acting is top-notch. Simon Peg and Ving Rhames are back as field agent Benji Dunn and computer guru Luther Stickell. Rebecca Ferguson (Dune, Mission Impossible films Rogue Nation, Fall Out) returns in a crucial role as Isla Faust and Ethan Hunt's love interest. Vanessa Kirby also returns as the ruthlessly calculating arms dealer White Widow. A new and welcome addition to the lineup is Esai Morales, who plays a terrorist and Hunt's primary human adversary.
And this is just a sampling of the new and continuing characters in Part 1.
Ending Provides Smooth Transition to Part 2
McQuarrie and Jendresen also pull off a surprisingly satisfying hat-trick at the end. Despite the varying plots, subplots, and intertwining personalities, the movie's important loose ends are tied together without slowing the pace or losing momentum for the movie. The transition to Part 2 will likely be a remarkably smooth continuation of the current story.
Overall, Mission Impossible: Dead Reckoning Part 1 is a well-acted, fast-paced action film with a thin and unimaginative plot. Ethan Hunt remains the central figure, and he is faced with personal challenges.
But Hunt's emotional obstacles—whether love or survival—are not as high stakes as the task of finding and neutralizing The Entity. In part, this is because the hubris of his nemeses in the human world—mostly government agents—never allows them to establish enough competence to create tension in the plot.
Dead Reckoning Part 1 holds together through Grace's character arc and the real dilemmas she faces, a stellar supporting cast, the fast pace and quality of the action sequences, and never straying from the formula that makes Mission Impossible movies enjoyable to the broadest audience possible.