Federal Bureaucrats Behaving Badly
The Government Accountability Office recently reported on federal employee misconduct within the U.S. government. Eric Katz of GovExec covered the report's surprising main finding:
One in four federal employees suspended by federal agencies in 2016 had been suspended before, according to a new review, which suggested an array of best practices for agencies to reduce misconduct in the workplace.

About 60 percent of serious disciplinary actions—including suspensions of more than 14 days, firings and demotions—in a given year are suspensions, the Government Accountability Office found in a new report. Overall, such actions are rare. Fewer than 1 percent of federal employees face such punishments on an annual basis.
Since the report focuses on employee misconduct, as opposed to poor performance, it is documenting only what happens to about 1% of the overall U.S. government civilian workforce in any given year. The following chart shows how the cases of federal bureaucrats charged with misconduct were dispositioned in the years from 2006 through 2016.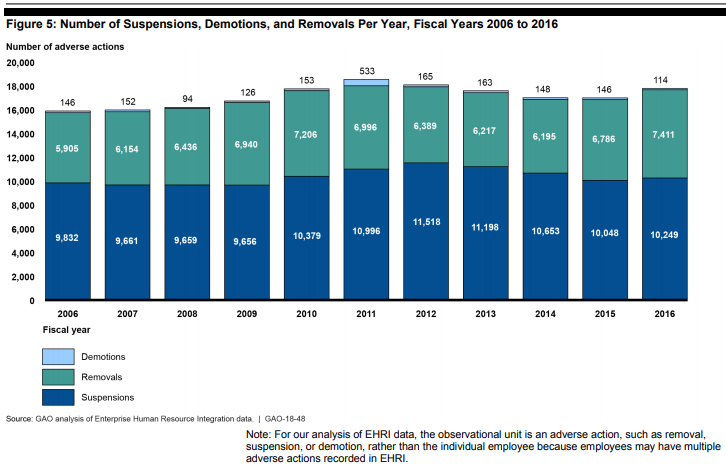 After seeing a chart like this, you might think that the U.S. government is effectively removing bad actors from its payroll after it discovers their misconduct. In the case of agencies like the Internal Revenue Service, you would be wrong, as described by John York in a recent op-ed at the Daily Signal, where he reviewed the findings of the Treasury Department's Inspector General that the IRS is rehiring many of the people it had previously fired for cause, because managers at the agency known for conducting excruciatingly detailed taxpayer audits spanning multiple years aren't bothering to check their own employment records:
According to the Treasury Department's inspector general, the IRS did not provide officials responsible for hiring decisions with information about employment history, though that information is readily available. As a result, the IRS—an agency with nearly unrivaled access to citizens' personal information and capacity to harass individual taxpayers—rehired:

A fired worker with several misdemeanor theft convictions and one count of felony possession of a forgery device.
11 employees previously disciplined for unauthorized access to taxpayer accounts.
An employee who was absent without leave for 270 hours—the equivalent of 33 work days.
An employee fired for physically threatening co-workers.
An employee fired for lying about previous criminal convictions on employment forms.
17 employees previously caught falsifying official documents.

Often, these employees do not have to wait long to get their old offices back. Two IRS employees fired for poor performance were rehired within six months.

Faced with these findings, the IRS was unapologetic. In a response letter to the Inspector General's Office, the IRS' chief human capital officer wrote that the IRS "determined its current process is more than adequate to mitigate any risks to American taxpayers, federal agencies, and its employees."
Just another example of U.S. government bureaucrats putting their own interests ahead of those of regular Americans.