Review: Atomic Blonde's Stylish Action Bolstered by Duplicity of War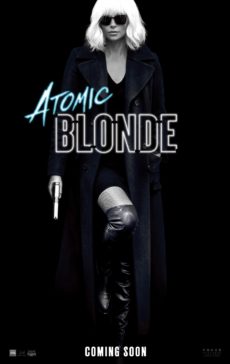 Current events have bolstered Atomic Blonde's, giving the film substance beyond its role as a conventional summer action movie better at scoring at the box office than provoking thought. Accusations of Russian influence in domestic elections, eyebrow-raising flights by private jet by millionaires advising presidential candidates, and historically low levels of trust in information from the White House all play into the duplicitous character of Cold War espionage and international intrigue that is at the core of story underlying Atomic Blonde.
Set in 1989 Berlin, just days before the fall of the Berlin Wall, the movie is a classically crafted action film in the tradition of Jason Bourne and James Bond. Stuntman turned Director David Leitch (John Wick, Confessions of an Action Star) has created a stylish, visually engaging film with plenty of action, well choreographed fights and car chases, and brutal violence. The only substantive difference between Atomic Blonde and other action films is the lead female character—literally the Blonde.
The movie's premise is a common plot device for international espionage stories—the bad guys (the Soviet Union's KGB spies) have obtained top-secret information on the good guys, in this case a list of the names and locations of English and allied-nation spies. Complicating matters is a double agent code-named Satchel who may or may not have the names and who may or may not be selling them to the Russians. England's top undercover agent, Lorraine (Charlize Theron, Cider House Rules, Monster, Mad Max: Fury Road), is dispatched by MI6 (Britain's foreign intelligence agency) to Berlin to recover the list and track down Satchel.
Lorraine is supposed to work with station chief David Percival (James McAvoy, Chronicles of Narnia, X-Men: Apocalypse, Split), who is working undercover in East Berlin. Somehow, the KGB keeps showing up where she is, and Lorraine soon realizes she is caught in a double cross. So, she starts working with her own contact, Merkel (Swedish actor Bill Skarsgard, Anna Karenina, The Divergent Series: Allegiant). Along the way she befriends a young French agent Delphine Lasalle (Sofia Boutella, Kingsman: The Secret Service, Star Trek Beyond, The Mummy) who is in way over her head. Complicating matters even more is the relentless and ruthless billionaire arms dealer Aleksander Bremovych (Danish actor Roland Moller, R, Horsens State Prison, Land of Mine) who is also interested in the names. John Goodman (Rosanne, Raising Arizona, Patriot's Day, 10 Clover Lane) performs a solid turn as CIA agent Emmett Kurzfield assigned to work with MI6, although his role will have audiences wondering why he is on screen until the very end.
These complications serve the film well, preventing a well-trodden plot from becoming too predictable and relying completely on the characteristic (and predictable) action scenes to engage the audience. Screenwriter Kurt Johnstad (300, Act of Valor, 300: Rise of an Empire) has pulled together a generally tight script with believable dialogue and enough mystery to never fully reveal the true extent of the intrigue until the end.
Atomic Blonde is a clearly a vehicle for Theron, and she does a fine job playing the role of the dour, emotionally broken British intelligence agent. Unfortunately, this character type also prevents her from showing much range. The audience gets a whiff of her humanity through the relationship with Lasalle, but the detached personalities that are a spy caper staple prevent much real emotion or connection with other characters. Then again, she's great at kicking butt and she knows how to use the requisite toys well.
Most spy film fans will be entertained by Atomic Blonde. The story may also remind us of how fact, fiction, and loyalty are inevitably corrupted during times of war, cold or hot. There are no winners, and those who prosper the most are those with the fewest scruples. Wars inevitably devolve into a brutishness where ends justify means.