Ban Government—Not Sweets—in Schools to Combat Bureaucratic Obesity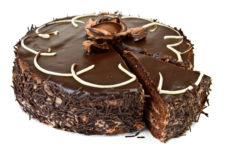 In recent weeks states have been grappling with a host of unintended consequences stemming from new USDA regulations affecting food and beverages available in schools. Chocolate milk was a near casualty in Connecticut. Earlier this month one Washington state school district threw in the towel and banned birthday cupcakes in classrooms. Instead of baked treats, students can share gifts of pencils with their classmates instead, according to school officials.
Just weeks after the new food rules went into effect on July 1, schools in 12 states are working their way around them. As the National Journal reports:
Twelve states have established their own policies to circumvent regulations in the Healthy, Hunger-Free Kids Act of 2010 [here] that apply to "competitive snacks," or any foods and beverages sold to students on school grounds that are not part of the Agriculture Department's school meal programs, according to the National Association of State Boards of Education. Competitive snacks appear in vending machines, school stores, and food and beverages, including items sold at bake sales.

Georgia is the latest state to announce an exemption to the federal regulations, which became effective July 1 for thousands of public schools across the country. Its rule would allow 30 food-related fundraising days per school year that wouldn't meet the new healthy nutritional standards. ...

Tennessee also plans to allow 30 food-fundraising days that don't comply with federal standards per school year. Idaho will allow 10, while Illinois is slowly weaning schools off their bake sales, hoping to shrink them from an annual 36 days to nine days in the next three years. Florida and Alabama are considering creating their own exemption policies.
Under the new regulations, there are some exemptions for school fundraisers (p. 7), including allowing state education agencies to define what constitutes "a limited number "of school fundraisers (p. 39).
However, it's worth considering why the USDA has any authority over foods offered outside of its school lunch and breakfast programs (p. 8), and why it has the power to ban fundraisers foods that compete with its meals to be sold during breakfast or lunch time (p. 41). As the school year approaches, expect more news reports about absurd policies resulting from this latest government intrusion into schools.
Maintaining a healthy weight is a goal we can all share, but burying schools, students, and parents in tons of red tape is no way to combat obesity. Perhaps the best way to shed some pounds at school is to shrink the federal government's involvement back down to its constitutional size.