Generous Contract Offer Still Not Enough for BART Hostage Takers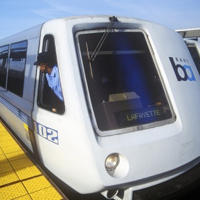 On Friday, about 2,400 union workers with the Oakland/San Francisco Bay Area Rapid Transit (BART) system went on strike for the second time in four months. The unions—the Service Employees International Union and Amalgamated Transit Union—represent BART station agents, train operators, mechanics, maintenance workers, and professional staff.
The striking workers are unhappy with BART's most recent contract offer. But most working-class people in the Bay Area would jump at these terms:
12 percent pay raise over four years
4 percent pension contribution by employees by the final year of the contract
9.5 percent increase in health care premiums
As I showed in a previous blog, the median total compensation for BART station agents is $108,505—a comfortable living indeed. The latest contract offer would still provide station agents and other BART workers with an overly generous compensation package.
The median base pay for station agents is $62,719. A 2005 study found that BART station agents receive the highest base pay for that job in five metropolitan areas: Atlanta, Chicago, New York, San Francisco, and Washington, D.C. The 12 percent pay raise would boost BART pay even higher.
Cash payouts for such things as overtime and vacation increase the current take-home pay for the typical station agent to more than $78,000 a year, a comfortable paycheck for a job that requires only a high school diploma or GED. But the benefits don't stop here.
BART pays station agents another $12,555 in pension contributions, which include $4,661 for the employee's share. Yes, BART workers don't pay a penny into their own CalPERS pension, a sweet deal unavailable to many Bay Area workers. Asking them to make a 4 percent contribution is reasonable and very generous given their long free ride on the gravy train.
BART's contribution to medical, dental, and vision plans is $17,415. Workers pay only a flat $92 monthly fee for family health insurance. Nationally, the average employee contributes nearly three times that amount for family medical insurance, according to the U.S. Bureau of Labor Statistics.
Asking these employees to pay 9.5 percent more for health insurance premiums is entirely reasonable, especially given the steep premium increases people are experiencing due to Obamacare. A 50-year-old adult in California, for example, is facing an average premium increase of more than 13 percent just for Obamacare, and many others face hikes much higher. BART workers aren't even being asked to bear this much.
The pleas of poverty from BART union members should fall on deaf ears. BART employees are very generously compensated at a time when most Californians are still struggling to recover from the Great Recession.
It's wrong that 2,400 BART "public servants" can hold 7 million Bay Area residents hostage to their limitless greed. BART management has made a very generous offer on top of an already overly generous compensation package. BART workers would be wise to accept.
California state Senator Mark DeSaulnier (D-Concord), chair of the Senate Transportation Committee, is considering legislation that would permanently ban transit workers in California from striking. This idea is looking better every day to people stuck in the world's largest parking lot, previously known as the Bay Area.