President Biden's Budget Deficit Legacy
The Congressional Budget Office creates a detailed 10-year budget projection of the U.S. government's spending, revenues, and deficits every year. The CBO's 10-year budget and economic outlook for 2023 are now out. This new report puts the lie to one of the most bizarre claims President Joe Biden made in his State of the Union address just ten days earlier.
Here's the claim:
In the last two years, my administration has cut the deficit by more than $1.7 trillion—the largest deficit reduction in American history.
President Biden's claim can only be true if the U.S. government planned to continue its crisis deficit spending to cope with 2020's coronavirus pandemic forever. It is perhaps the most bizarre measuring stick that one could use to claim success in reducing budget deficits.
A Much Better Measuring Stick
The CBO's ten-year budget and economic outlook reports provide a saner method for measuring President Biden's success at reducing expected deficits. All we need to do is compare the CBO's cumulative ten-year deficit projections from February 2021 with their latest deficit outlook.
The CBO's ten-year budget outlook from 2021 details a reasonable projection of how big the U.S. government's future deficits were expected to be at the beginning of Biden's presidency. Any difference between these two cumulative projections will confirm how different the outlook for the federal budget deficit has become. That difference is the result of President Biden's fiscal policies. The graph below reveals President Biden's cumulative budget deficit legacy from his two years in office: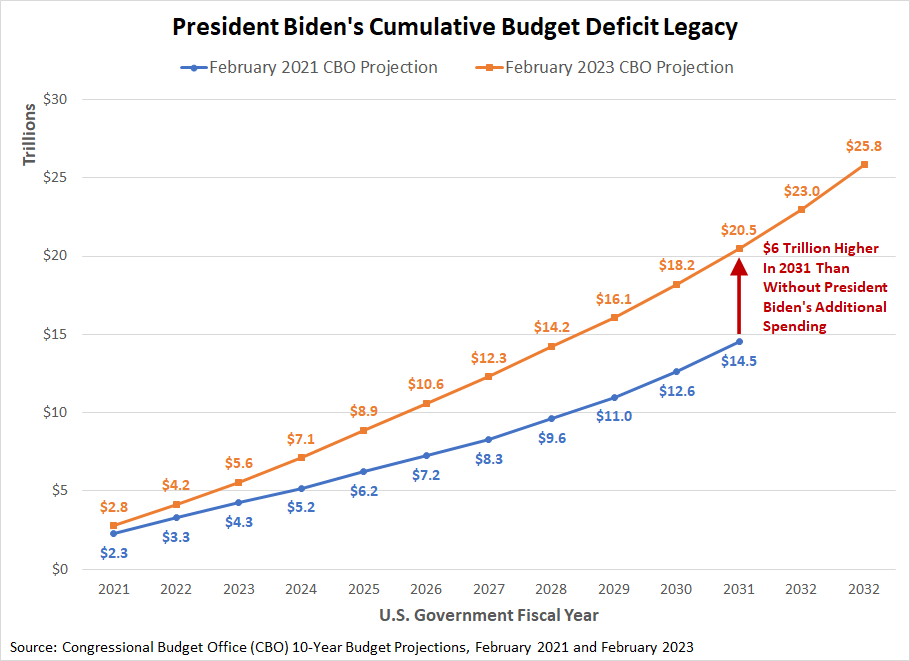 As you can see, there is no sign of any reduction in the U.S. government's budget deficits. Worse, they mostly get bigger year after year. By 2031, the final year in the CBO's budget outlook from February 2021, the nation's cumulative deficits are $6 trillion larger than they would have been without President Biden's fiscal policies.
That's not what successfully reducing budget deficits looks like. That is a massive fiscal policy failure. It is no wonder President Biden ignored the nation's biggest problem in his 2023 State of the Union speech. That problem is a direct result of his policies.
President Biden's Failed Fiscal Policy Legacy
Writing at The Daily Signal, budget policy analyst David Ditch summarizes President Biden's seven biggest contributions to the U.S. government's projected budget deficits:
None of these policies happened by accident or in response to a real national emergency or crisis. These deficit-increasing policies result from President Biden's choices during the last two years.
It is to his shame he's leaving behind such a negative budget deficit legacy.