Ben Carson and the Future of Cities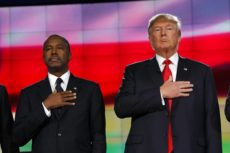 President-elect Donald Trump has tapped neurosurgeon Ben Carson to head the U.S. Department of Housing and Urban Development (HUD). While pundits are focused on their primary feuds, a more important question is whether HUD's mission will change under Carson's tenure.
On the surface, Carson's appointment might seem to be a simple patronage job, a reward for his loyalty to the Trump candidacy. Carson's only urban policy experience appears to be a passion for urban areas, particularly low-income minority communities, and his life experience growing up in Detroit.
Yet, HUD is a federal agency where a personal philosophy and approach to public policy can make a difference in agency priorities. Carson has the potential to reshape urban policy in several important ways even without deep knowledge or significant policy background.
I started working on urban development policy in the 1980s, during the Reagan era, and I cut my proverbial teeth as a researcher evaluating the impact of enterprise zones. I continue to teach state and local economic development with an emphasis on urban policy. So, here are a few early thoughts on what a Carson HUD might look like.
A "people-centered" approach will become more central to urban policy. Carson has used his own experience growing up in Detroit as the son of a single mother to frame much of his political agenda and platform. These core experiences will likely remain an important lens through which he will view urban policy and HUD's role. He will likely be less concerned about "place-based" policies, which emphasize a geography, such as neighborhoods or regions, and more focused on "people-based" strategies that emphasize individual empowerment and improvement. Place-based policies that would rely on initiatives such as improving neighborhood infrastructure or promoting general economic growth are less likely to be funded or prioritized than policies focused on assistance to individuals. Policies that integrate marginalized people and populations into the mainstream economy would receive more attention and be given a higher priority.

Faith-based initiatives will likely experience a resurgence. Federal policy is likely boost to faith-based initiatives, programs that are framed and supported by organizations with strong spiritual and religious orientations. Carson's strong Christian faith will serve as an inspiration for new programs and new ways to fund initiatives such as ending homelessness and helping ex-offenders re-enter the workplace to reducing crime. Faith-based organizations will likely to see their stature rise, particularly if they have shown strong performance, and become more integrated into critical community-based infrastructure.
Regionalism and Smart Growth will take a back seat. Initiatives focused on centralizing urban decision-making through planning and transportation investments, as well as those that promote idealized notions of city design, are likely to be de-emphasized. Optimizing urban design principles or values such as high-density residential development, mixed land uses, transit-friendly neighborhoods—also called Smart Growth—will be less important as a policy priority than providing assistance and programming in the most economically vulnerable places.
Mass transit—with a twist. Mobility is critical to lifting families and individuals from poverty, and a HUD that focuses on people, rather than places, is likely to embrace personalized transit more than mass transit. Personal mobility through taxis, ride sharing, and personal vehicles would be supported, while traditional mass transit investments would be evaluated based on their mobility benefits for marginalized groups (rather than based on urban design or economic-development outcomes). Transit will continue to be a major focus of urban policy, but HUD will likely encourage more experimentation with nontraditional transit alternatives.
Personal empowerment and choice will guide HUD policy. A Carson administration is likely to re-emphasize policies such as entrepreneurship and social enterprise as mechanisms for revitalizing cities. Entrepreneurship is one of the most effective pathways to economic sustainability and the development of marketable employment skills, and these values will likely anchor policy at HUD. Policies that open up industries such local taxi markets to entrepreneurs, or that loosen occupational licensing to promote self-employment, will be encouraged since they provide a triple win—empowerment through work, financial sustainability through market-based growth, and neighborhood stabilization through rising employment.
Carson's first years as HUD secretary will be spent just trying to figure out how this sprawling agency works. The agency administers a budget of nearly $50 billion. Nineteen public-housing programs alone focus on low-income citizens and residents. Another 16 focus just on single-family housing, with programs ranging from income assistance to improving energy efficiency. Carson is unlikely to gut most of these programs. Most will continue without much fundamental change as he and his staff put their time into evaluating them and directing existing resources to reflect a new emphasis on programs that serve individuals over places. Structural change is likely to be left to a second term, if there is one.
Nevertheless, urban policy is likely to experience a dramatic shift compared to under the Obama administration, which focused much more on place-based strategies such as general mass-transit improvements, regional governance, and Smart Growth. Whether or not these or other policy shifts occur, however, will depend critically on other, hopefully more knowledgeable, political appointees who will help design and carry out the policies under a Carson administration.
For additional reading on housing and urban policy from the Independent Institute, see: