A Sandy Beach and Constitutional Political Economy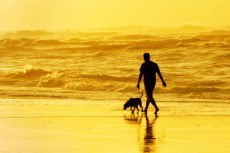 I normally walk my dogs twice each day along the beach, which gives me an opportunity to ponder, among other things, issues in constitutional political economy. My late friend James Buchanan, one of the deepest thinkers in political economy during the past century, led the development of this field of study in his time. Jim maintained that both for understanding how the political world works and for constructing better institutions to foster freedom and prosperity, one ought to distinguish between the establishment and maintenance of the constitution, on the one hand, and normal politics, on the other. The idea is that the constitution has more durability and sets more binding constraints, whereas normal political action takes place within these bounds, dealing with less fundamental matters and doing so in a more volatile way.
I never found this way of thinking about politics very compelling. My study of political economy, political history, in general, and constitutional history, in particular, convinced me that the separation Buchanan urged has little to recommend it analytically. From the very outset, those who framed constitutions have sought to twist and game them along lines that seem closely connected to so-called normal, day-to-day politics. It is true, of course, that certain procedural stipulations in the U.S. Constitution, such as the conduct of a presidential election every four years or the age requirements for various public offices, have been seemingly set in stone. Yet these kinds of constraints have little or nothing to do with the substance of the constitution as an architecture of power and restraint of power.
In the United States of America (though not in many other countries) it is difficult to amend the formal, written Constitution. No doubt that difficulty helps to explain why such great efforts have always been made not to amend it but to reinterpret its unchanged provisions, in many cases to such a great extent that its plain meaning has been turned completely on its head (e.g., authority to regulate interstate commerce ultimately becoming a limitless grant of congressional power to regulate practically everything). Notice also the immense attention given to presidential appointments to the Supreme Court. If the justices did only what a Buchanan-type court is supposed to do, their identities would scarcely matter. Yet, because the High Court has increasingly become a law-making body in its own right, its membership may matter a great deal and therefore incite tremendous political controversy and conflict. Hardly anything illustrates better the degree to which the constitutional and normal-political levels are not separate and apart, but essentially one and the same.
The longing for fundamental, semi-permanent constitutional constraints has a long history, and Buchanan's contributions only capped those of many previous deep jurisprudential thinkers. But, alas, people in their daily grasping for power and pelf cannot be kept penned within such institutional fences. They and their political representatives will—as they have throughout U.S. history—leap over or burst through such would-be containments. Constitutional constraints have been especially flimsy during times of national emergency. I have written about this aspect of the matter since the early 1980s; my book Crisis and Leviathan, among many other works, deals with it at considerable length.
This relationship might occur to someone walking along in the shallow water of a sandy beach. Often one puts his feet down on a seemingly solid surface. Yet, as soon as a wave washes over the area, the sand slips from beneath one's feet, and one must take steps to keep from being undermined and upset in the surf. Likewise, a constitution may seem to provide a solid, durable foundation for the conduct of workaday political affairs, but the sensation is misleading. As soon as a real or imagined crisis occurs, the constitution's seemingly solid foundation is washed away, and political actors take new steps to gain their objectives unconstrained by any stronger or more enduring restraints. Indeed, many such opportunists understand this relation well and prepare themselves to exploit a crisis to the maximum when one conveniently comes along—another matter on which I have written repeatedly.
In his parable of the wise and foolish builders, recounted in the Book of Matthew, chap. 7, Jesus refers to "a foolish man who built his house on sand. The rain came down, the streams rose, and the winds blew and beat against that house, and it fell with a great crash." The parable might well be applied also in the field of constitutional political economy. Constitutions have inspired much hope among political philosophers and ordinary people. Sad to say, they have never held the potential to restrain the leviathan that many people expected or hoped they would hold. It is very hard to restrain determined political actors with mere parchment barriers. Indeed, it is pretty much impossible. Unless the constitution is soundly framed and written in the hearts of many influential people in society, it has little capacity to restrain people's political grasping and folly.