What Really Creates a Peaceful, Orderly, and Prosperous Society?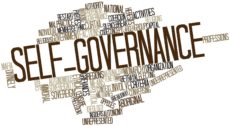 The idea that genuine self-government—the system in which individuals contract for the type of governance they prefer—must fail because under such a system no one can make others obey the rules is stunningly misconceived. On any given day, even in a world pervaded by states and their dictates, nearly everything that people do or refrain from doing is so not because the state threatens them with violence for acting otherwise, but because they find conformity with rules—honesty, promise keeping, careful handling of goods, avoidance of opportunism, working hard and responsibly, refraining from shirking and malingering, and so forth—to be in their interest. The world does not run on the state's threats of violence; it runs in spite of those threats. Notwithstanding the supercilious declaration that "you didn't build that," you actually did, and not because the state threatened to hurt you if you didn't.
Many sanctions besides violence and threats of violence may be—and are even in the world in which we now live—effective incentives for adherence to law and order. Ostracization of dishonest dealers, for example, works wonders, and in the world of modern communications it can be more effective than ever. Many people conduct their affairs honorably and fairly in order to preserve an upstanding reputation and thereby to retain beneficial commercial and personal relations. Many people subscribe to religious or other moral codes that regulate their conduct and direct it into decent and productive channels. The state's contribution to creating a successful world is, as a rule, to stand in the way and, all too often, to punish those who are trying to serve their fellow human beings in free markets and other peaceful, cooperative arrangements.
States don't make our world peaceful, cooperative, and productive—to the extent that it is so. Insofar as the world works successfully, it does so in spite of the state's characteristic bloodthirst, oppression, and plunder, not because of it. Upon real reflection, the puzzle is that anyone believes that the relationship is the other way around. People who think, work, create, invest, plan, and carry out productive projects make the world work. People who collect taxes, create mountains of unnecessary regulations, threatening violence against those who fail to comply with them, and devote vast amounts of extorted resources to wreaking senseless death and destruction at home and abroad also make the world work—but much, much for the worse.
So, to the extent that the state is necessary to make people obey the rules, chances are that the rules to which it compels obedience ought never to have been made in the first place. But don't take my word for it: open up the U.S. Code, the Code of Federal Regulations, the Federal Register, and the corresponding legal documents for any of the state, county, and city governments in the USA and see for yourself. If you conclude that all of this legal outrage and the police who enforce it make economic or moral sense, you may be a unique person, indeed.