San Francisco Professor Compares BART Transit Workers to Slaves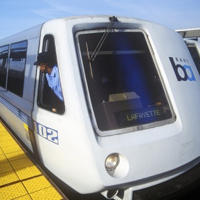 The two strikes by Bay Area Rapid Transit (BART) unions during the recent contract negotiations have prompted a legislative campaign to ban strikes by public transit workers in California. John Logan, a professor and director of labor and employment studies at San Francisco State University, recently wrote an opinion piece opposing a ban for the Sacramento Bee in which he compared workers who lack the right to strike to slaves:
The right to strike is an issue of fundamental personal liberty. In a free country such as ours, except for the most compelling reasons, people should not be forced to work against their will. The prohibition of involuntary servitude is there in the 13th Amendment.
Three days after Professor Logan's commentary, the Sacramento Bee ran my response Letter to the Editor, "BART Workers Are Hardly Like Slaves":
I was appalled to read Professor John Logan's comparison of BART workers possibly losing their right to strike to being forced to work against their will, and then stating that the prohibition of involuntary servitude is there in the 13th Amendment.

This is an absurd comparison that minimizes the brutal treatment of slaves in America kept in chains and whipped into submission to work without pay for the benefit of others. Is this the experience of BART workers?

If BART workers don't like their pay and working conditions, they can quit. Slaves didn't have that liberty.
Long before their strikes, BART workers boasted high pay and lavish benefits beyond those of most Bay Area commuters their strike held hostage. It is a sad commentary on the state of higher education that someone as ignorant of American history as Professor Logan, and so blindly driven by a pro-union political agenda, is allowed to teach students at a university. On second thought, maybe these are the requirements for tenure today.
California taxpayers should be mindful that they are subsidizing the salary of Professor Logan and have every right, perhaps even a duty, to complain about their tax dollars being used to employ someone with such ill-informed and insensitive views.
Professor Logan is also a labor policy specialist with the University of California, Berkeley, Center for Labor Research and Education, a taxpayer-funded union propaganda mill disguised as a think tank, which Andrew Gloger and I exposed in a 2003 op-ed. California taxpayers have paid millions of dollars to this bogus "research" center—another reason for taxpayers to complain loudly.