---
By Sam Staley • Tuesday August 1, 2017 1:00 PM PDT •
---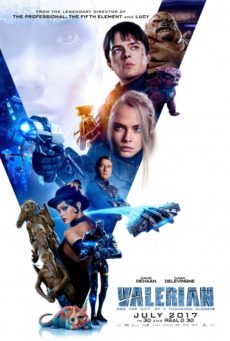 Sometimes the box office is not a good indicator of a film's quality, and such is the case with Valerian and the City of a Thousand Planets. The movie's aesthetic is a satisfyingly conscious blend of space opera, fantasy, and action with a European flare. Throw in deep-seated government corruption that leads to planetary and species genocide, and the core of the film adds in a substantive message about dignity, self-respect, and trust.
Americans might be tempted to think this film and comic series was inspired by Star Wars. In fact, if a relationship exists, the influence may be the other way around. The film's story is taken from the long-running French comic series Valerian and Laureline (1967-2010), which featured epic, diverse universes with inter-species cooperation and conflict. Indeed, the design director behind Star Wars: The Phantom Menace kept bound copies of the comic on his shelf during that film's production.
The plot is straightforward. Valerian (Dane DeHaan, The Amazing Spider-Man 2, Life, A Cure for Wellness) and Laureline (professional model Cara Delevingne, Paper Towns, Suicide Squad) are inter-planetarian government agents, working for the World State Federation. They are tasked with recovering a "converter," an animal that ingests energy-intensive pearls harvested from the waters the planet Mul and creates new ones. The converter is the last known living specimen of its species because its home planet was destroyed by debris falling from a massive space battle above its planet.