---
By Abigail R. Hall Blanco • Monday December 19, 2016 8:43 AM PST •
---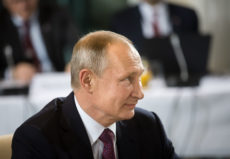 The FBI and CIA are in agreement that Russia in some way interfered in the U.S. election. What is known so far is that Russian hackers were able to access the emails of Hillary Clinton's campaign chairman, John Podesta. Hackers also breached the Democratic National Committee (DNC).
According to sources, the Russian government sought to hinder the Clinton campaign and work to assist Trump in winning the presidency. In his last press conference for 2016, President Obama discussed the hacks, but carefully avoided questions on whether or not Russian president Vladimir Putin was involved. He did, however, say that "not much happens in Russia without Putin." President Obama said he saw Putin in September while abroad in China and told him to "cut it out" with regard to the election hacking. He continued, "there would be some serious consequences if he (Putin) didn't [put an end to the cyber hacks]."
People seem floored by these revelations. How could Russia interfere in the workings of the U.S. political process? How dare they try to manipulate the outcome of a presidential election?!
I'm reminded of a Biblical passage.
Why do you look at the speck of sawdust in your brother's eye and pay no attention to the plank in your own eye? How can you say to your brother, 'Let me take the speck out of your eye,' when all the time there is a plank in your own?