---
By William Watkins • Tuesday November 15, 2016 1:33 PM PST •
---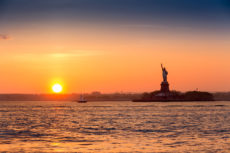 Both Donald Trump and Hillary Clinton called for innovative solutions for what ails America. For the former it was a new fence on our southern border that will supposedly be funded by Mexico; for the latter it was free (i.e., taxpayer subsidized) college tuition. Fresh ideas, they told us, could "make America great again" and render us "stronger together."
Neither campaign stopped to consider that it was an innovation that led to our current woes, one that most Americans view as their country's greatest contribution to political science: the U.S. Constitution.
Undoubtedly, blaming America's "paramount law," as Chief Justice John Marshall called the Constitution, seems like scandalous heresy. Americans are taught that their fledgling nation was going down the tubes until ratification of the Constitution in 1788 ensured that the United States of America would survive the failures of the Articles of Confederation. The standard narrative portrays the Federalists, the proponents of the new Constitution, as visionaries and paints the Anti-Federalists, who opposed ratification, as men of little faith with no concept of future American greatness.
What the conventional tale leaves out are Confederation's significant accomplishments.