---
By William Watkins • Tuesday April 18, 2017 4:08 PM PDT •
---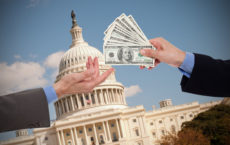 Sanctuary Cities are in an uproar over President Trump's executive order promising to withhold federal money from "sanctuary jurisdictions." They are seeking court intervention to nullify the order. Sanctuary cities, as a general matter, prohibit local cops from cooperating with Immigration & Customs Enforcement agents, forbid the local cops from notifying the feds regarding illegal aliens in law enforcement custody, etc.
According to Trump's order, "Sanctuary jurisdictions across the United States willfully violate Federal law in an attempt to shield aliens from removal from the United States. These jurisdictions have caused immeasurable harm to the American people and to the very fabric of our Republic." The Order calls upon the Attorney General and the Secretary for Homeland Security, "in their discretion and to the extent consistent with law," to compile a list of sanctuary jurisdictions that will "not [be] eligible to receive Federal grants, except as deemed necessary for law enforcement purposes by the Attorney General or the Secretary."
This could be a huge hit for some cities. For example, it is reported that nearly a quarter of Seattle's $4 billion budget came from federal government.