---
By Lawrence J. McQuillan • Thursday October 27, 2016 5:17 PM PDT •
---
According to the President's Office of Management and Budget, the 2016 federal budget looks like this (p. 115):
| 2016 Federal Budget | |
| --- | --- |
| Receipts | $3,336,000,000,000 |
| Outlays | $3,951,000,000,000 |
| Deficit | $616,000,000,000 |
| National debt held by the public | $14,129,000,000,000 |
| Total national debt | $19,765,000,000,000 |
Now let's pretend this is a household budget by removing eight zeros:
| Family Budget | |
| --- | --- |
| Annual family income | $33,360 |
| Annual family spending | $39,510 |
| New debt on the credit card | $6,150 |
| Outstanding balance on the credit card | $141,290 |
| Money owed to credit card and relatives | $197,650 |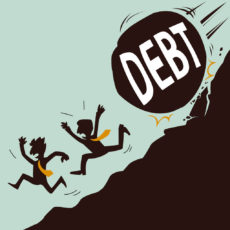 Clearly, this family is financially irresponsible, as rising debt and debt-service costs consume the family budget. Changes need to happen immediately. The same is true for the federal government.
In a New York Times commentary titled "Ignoring the Debt Problem," Paul A. Volcker, former chairman of the Federal Reserve, and Peter G. Peterson, former secretary of commerce, said:
Delaying action now will make the needed changes only more painful and difficult later on, while also increasing the risk of financial crisis before the reforms are even made. That is why the real debate should begin immediately.

Yet at the final presidential debate, both candidates missed the opportunity to clearly lay out their visions for a fiscally responsible, long-term future for our country. There's still time to solve this problem. But our next president needs to show leadership in the first months.

At our age, neither of us will personally suffer from a failure to act. It is those with long lives ahead—grandchildren and great-grandchildren—who deserve the benefit of prospering in a nation with sound finances.

Take some advice from two observers who have been around for a while: The long term gets here before you know it.