---
By Alvaro Vargas Llosa • Monday January 26, 2015 12:08 PM PST •
---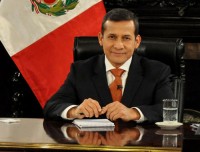 The Peruvian government is spying on its critics, real or imagined.
The first revelations came out a year and a half ago but were summarily dismissed by President Ollanta Humala. Now a profusion of videos, documents, and other evidence has been leaked out by insiders at the National Intelligence Directorate (DINI), an organization headed by a former soldier from the same graduating class as the President, also a retired officer, at the military academy.
President Humala repeatedly attacked and even mocked the new revelations—until evidence came out that his vice president, a dissident who was pushed aside by the president's wife when she tried to become head of the Congress, was being spied on. Fearing a major crisis once she tweeted her disgust at the news that she was a target (many believe the vice president found out she was under surveillance and leaked the information), Humala has promised to "open" the DINI to a parliamentary committee . . . controlled by the ruling party.
Tags: Elections, Latin America, Peru, Surveillance