---
By John R. Graham • Friday March 24, 2017 9:29 AM PDT •
---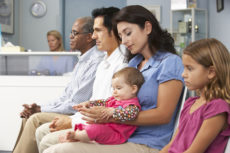 Merritt Hawkins, a physician-staffing firm, has published its periodic survey of waiting times for appointments with physicians in 30 metropolitan markets. The results:
Average new patient physician appointment wait times have increased significantly. The average wait time for a physician appointment for the 15 large metro markets surveyed is 24.1 days, up 30% from 2014
Appointment wait times are longer in mid-sized metro markets than in large metro markets. The average wait time for a new patient physician appointment in all 15 mid-sized markets is 32 days, 32.8% higher than the average for large metro markets.
Of the 15 major markets surveyed, Boston has the longest waiting time (52.4 days) while Dallas has the shortest (14.8 days). This is not surprising, because queuing is a symptom of a system where resources are allocated by central planners exercising government privilege. Massachusetts has long been at the forefront of efforts to guarantee universal access to care through government planning, whereas Texas has no interest in such a program.