---
By Abigail Hall • Wednesday February 10, 2016 7:12 AM PST •
---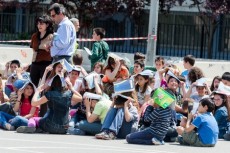 As a kid, I loved days when we had fire and tornado drills. It was something that broke up the monotony of day. There was nothing like scurrying down to the cafeteria and huddling by the floor with your best friends, "preparing" for a hypothetical tornado but really talking about what you had for lunch and what your were doing over the weekend. Oh yea, and if there was ever an actual tornado, stay away from the window and cover your neck. OK–got it.
Tornado and fire drills are probably a good idea. Though both are fairly rare occurrences, teaching children, and adults for that matter, to be prepared for tornadoes and fires should probably be considered a best practice.
But not all drills invoked such feelings during my school years. By the time I got to middle school, we hosted "active shooter drills." These drills taught us the following. In the event someone comes into the school with a gun and the intent to kill everyone, turn off the lights and huddle in the corner of the room. Assuming the assailant has really poor vision and can't see through the glass door, you'll be safe. (The unspoken lesson went like this. If the shooter isn't blind and can see through the door, pray that you're in the middle of the huddle and not on the border.) As opposed to making me feel safe, these drills placed a kernel of worry in the back of my mind. Would today be the day that someone comes to the school with a gun?
I was in junior high when 9/11 changed the American psychological landscape. I remember going home and seeing the coverage on every news channel, including Cartoon Network and Nickelodeon. After that, we had to have drills every so often about what to do in the event of a terror attack. (I honestly cannot remember what the drills entailed.)
Tags: active shooter, Economics, Education, policy, Sandy Hook Elementary, school shootings