---
By Lawrence J. McQuillan • Thursday August 25, 2016 11:06 AM PDT •
---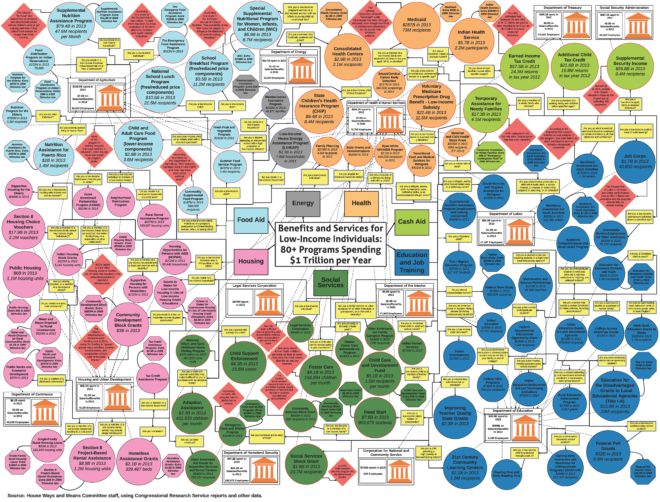 More than 52 million people in the United States, 21 percent of the population, participate in major means-tested government assistance programs each month, according to the U.S. Census Bureau. More than 80 federal programs dole out roughly $1 trillion of benefits and services to low-income people annually (see the amazing image above from the U.S. House Ways and Means Committee).
The creation and growth of this massive web of government programs are the result of Washington's "Iron Triangle": Politicians who want votes and campaign contributions; bureaucrats who want to administer these programs with bigger annual budgets; and program beneficiaries and well-intentioned advocates for the poor.
Supporters view these programs as evidence of a compassionate society, helping to uplift the poor and disadvantaged. I would be inclined to agree if not for the overwhelming evidence that these programs, in fact, create dependency, do little to alleviate poverty, and shred the moral connective tissue of a civil society.