---
By John R. Graham • Thursday March 6, 2014 9:02 AM PDT •
---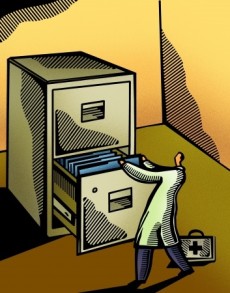 A recent survey noted that despite almost $27 billion dollars of federal money spent on implementing electronic health records (EHRs) in the private sector, 70 percent of physicians believe that the adoption of EHRs has not been worth it.
We should not be surprised: The government cannot manage to get EHRs in two of its own closely related departments, Veterans Affairs (VA) and the Department of Defense (DoD), to talk to each other.
According to a new Government Accountability Office (GAO) report, DoD spent $2 billion between 1997 and 2010 on health IT, which now "comprises multiple legacy medical information systems." The VA has a health IT system that consists of 104 separate computer applications, including:
56 health provider apps,
19 management and financial apps,
8 registration, enrollment, and eligibility apps,
5 health data apps,
3 information and education apps,
All of which are customized at all 128 VA sites.
The VA spent almost $600 million between 2001 and 2007 to modernize its health IT systems and estimated a cost of $11 billion to modernize them by 2018. However, the VA abandoned this effort in 2010.
Tags: Defense, Healthcare, Technology