---
By John R. Graham • Tuesday April 15, 2014 1:27 PM PDT •
---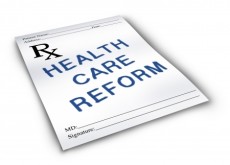 Gov. Bobby Jindal (R-LA) has joined the number of Republicans with an alternative health reform. His Freedom and Empowerment Plan doesn't mince words on repealing Obamacare:
The American people are in favor of repealing Obamacare. But conventional wisdom in Washington holds that the law cannot be fully repealed. I couldn't disagree more. A country that won two world wars and landed a man on the moon can surely eradicate this attack on our health care system.
Much of what is in his outline is found in other Republicans' proposals. Jindal would demand that states "guarantee access" to people with pre-existing conditions, through a "high-risk pool, reinsurance, or some other method ensuring those with chronic conditions can obtain needed care."
Expanding the options for "guaranteeing access" beyond high-risk pools is very promising: "Reinsurance" is what we call "change of health status insurance," which both protects those with pre-existing conditions and gives insurers incentives to enroll them (as described in John C. Goodman's Priceless: Curing the Healthcare Crisis, pp. 183-184).
Tags: Affordable Care Act, Healthcare