---
By Anthony Gregory • Friday July 29, 2016 12:11 PM PDT •
---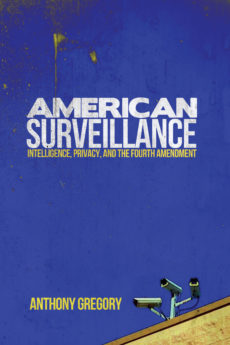 Editor: Today is the publication date of the Independent Institute's newest book, American Surveillance: Intelligence, Privacy, and the Fourth Amendment, by Anthony Gregory (Research Fellow, Independent Institute). Published for Independent by the University of Wisconsin Press, this widely acclaimed new book traces the history of government surveillance in the U.S. that transcends party divides, urging us to look deeper into government policy and how best to protect individual privacy.
*******************
Whatever else it might be, November's election won't be a referendum on surveillance and privacy. Hillary Rodham Clinton voted as Senator for the USA PATRIOT Act in 2001 and 2006, and Donald Trump has approved its renewal, saying he tends to "err on the side of security." In the Democratic debates, Clinton harshly criticized NSA whistleblower Edward Snowden, insisting, probably wrongly, that he "could have gotten all of the protections of being a whistleblower" and "raised all the issues" without breaking the law. Trump has called Snowden a traitor, promised to get Russian president Vladimir Putin to hand him over, and in the past even suggested him worthy of execution. Both candidates want to expand foreign intelligence. Clinton recently told Fox television host Bill O'Reilly that among her "priorities is to launch an intelligence surge" and more information-sharing to combat terror. Trump told CBS journalist Leslie Stahl that, to defeat ISIS, "we're going to have unbelievable intelligence, which we need [and] right now, we don't have."
Both major political parties have nominated surveillance hawks for the highest office in 2016, but we could excuse the public for discerning partisan differences. In recent years, both sides have postured as disagreeing fundamentally. Barack Obama ran for president echoing fellow Democrats' condemnation of President George W. Bush's attempts to immunize telecoms implicated in NSA warrantless wiretapping. Under Obama's presidency, the Republican National Committee denounced the NSA's "dragnet program" as likely "the largest surveillance effort ever launched by a democratic government against its own citizens" and its mass data collection as "contrary to the right of privacy protected by the Fourth Amendment." Inconsistent politicians have mirrored a shift among constituents. The Pew Research Center in 2006 found that 37% of Democrats and 75% of Republicans considered Bush's surveillance program acceptable. In 2013, 64% of Democrats and 52% of Republicans approved NSA surveillance under Obama.