---
By John R. Graham • Wednesday January 28, 2015 8:57 AM PST •
---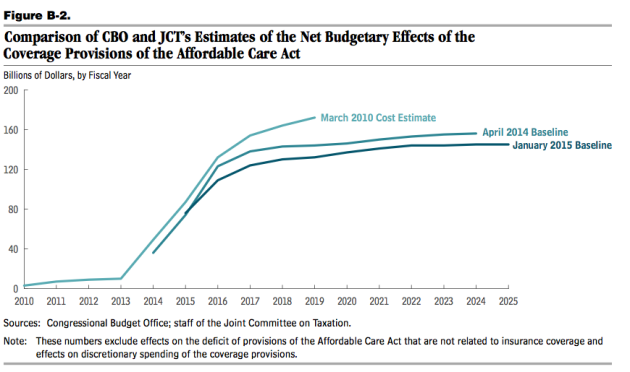 In the January 2015 Budget and Economic Outlook, the Congressional Budget Office (CBO) pronounced that Obamacare's future costs will be one-fifth lower than had been originally estimated:
In March 2010, CBO and JCT projected that the provisions of the ACA related to health insurance coverage would cost the federal government $710 billion during fiscal years 2015 through 2019 (the last year of the 10-year projection period used in that estimate). The newest projections indicate that those provisions will cost $571 billion over that same period, a reduction of 20 percent (p. 129).
What explains this windfall?
Tags: Affordable Care Act, Budget and Tax Policy, Healthcare, Medicaid