---
By Gary Galles • Monday March 14, 2016 1:08 PM PDT •
---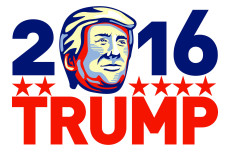 Donald Trump promises to "Make America Great Again." Unfortunately, his "us versus them" view of economic exchanges, prominent in his "America doesn't win anymore" rant, would fail introductory economics. And his protectionist promises cannot make us great again, only less great and poorer.
Trump's protectionism rehashes a bogus patriotism argument. Imports are pilloried as harming American industry, creating an excuse for "we must defend America" protectionist policies. Since imports always harm American producers of competing products by reducing demand for their output, those wanting protection for themselves find that convincing, as do many who overlook the logical cheat.
The conflict is framed as one between foreign producers and American producers, where patriotism should lead us to favor American producers. If that were accurate, and we cared more about "our" producers, we would give them preference, other things equal. But this is a massive misrepresentation. Protectionism is actually a conspiracy between American producers and the American government to rip off American consumers and foreign suppliers.
Depicting protectionism as domestic producers versus foreign producers ignores the central issue—when do American consumers buy from foreign producers? When they offer a better price and quality deal. Consequently, when trade restrictions take away those superior options, they make American consumers poorer. And patriotism does not imply our government should help American producers beggar American consumers.