---
By Abigail R. Hall Blanco • Friday October 28, 2016 9:15 AM PST •
---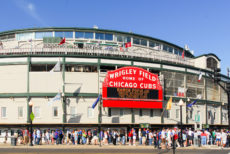 Cubs fans, rejoice! This may be the year you can finally stop blaming a goat for all your problems and win a World Series.
Without a doubt, sports are a goldmine of economic topics. With the popularity of books and movies like Moneyball: The Art of Winning and Unfair Game, many people have been exposed to how the logic and mathematical tools of economics are readily applied to sports. In my honors principles classes, I ask my students to write op-eds of their choosing, with the condition that they apply the economic way of thinking to their topics. Without fail, at least one paper turned in will be about baseball, basketball, soccer, or football.
The most recent World Series is bringing up a different type of economic problem, however. It's reported that bars near Wrigley Field are charging some $250 per person just to get inside to watch the Cubs play in the World Series. These prices include drinks and a buffet, but not a seat. A chair is an additional charge.