---
By John R. Graham • Wednesday April 16, 2014 2:45 PM PDT •
---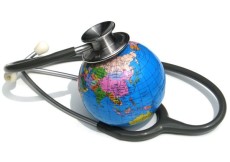 In a working paper published by the Mercatus Institute at George Mason University, Marc D. Joffe notes that Aetna, Blue Shield, and HealthNet offer health insurance in California that gives beneficiaries access to Mexican providers. The U.S. insurers rent a provider network from a Mexican insurer.
The costs of health care in Mexico are 60 percent to 80 percent lower than in the United States. Cash-paying Americans travel to Mexico for many medical procedures. Joffe cites estimates of around half a million Americans annually visiting Mexico for medical care (although the number travelling only to fill prescriptions is not reported).
Joffe notes that 25,000 Americans living in Mexico in 2011 were receiving Social Security deposits. Unlike half a million other Americans who travel to Mexico for treatment, these retirees and their spouses return to the United States for treatment. The reason is that Medicare does not pay for their treatment out of country.
Joffe doesn't estimate how much money Medicare would save if it paid for their treatment in Mexico, but a back of the envelope estimate is not hard to figure out.
Tags: Healthcare, Medicare, Mexico