---
By Vicki Alger • Wednesday January 6, 2016 10:31 AM PDT •
---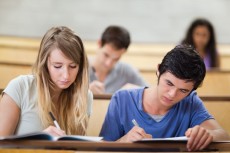 Tomorrow marks one of education's most important  rituals: the annual release of Education Week's "Quality Counts" report, which grades states on several criteria including spending. If history is any indication, howls about "underfunded" public education are sure to follow. In fact, by my tally at least a dozen states all claimed to be 49th in K-12 funding in 2015 alone, about the same number as 2014, depending on the ranking and the methodology used.
The reality is total public elementary and secondary school spending now amounts to $635 billion. If that kind of spending represented market value, public K-12 education would rank second only to Apple valued at $725 billion and far ahead of ExxonMobil and Microsoft, each with a market value of more than $300 billion.
The trouble is, annual spending rankings tell us virtually nothing about how much value students and taxpayers are receiving for what we're spending.
Right now, for instance, total per-pupil spending averages more than $12,000 nationwide. Yet alarmingly small numbers of students are doing well in reading and math based on combined proficiency rates from the National Assessment of Educational Progress (NAEP), also known as the Nation's Report Card.