---
By Alvaro Vargas Llosa • Thursday April 14, 2016 3:00 PM PDT •
---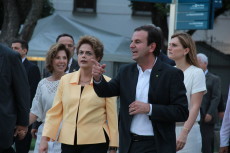 A technical committee of the Chamber of Deputies has voted to recommend the impeachment of Brazilian President Dilma Rousseff. If two-thirds of the lower house of Congress vote to impeach her, her fate will rest with the Senate, where a simple majority will certainly accept the case. During the process, Rousseff will be suspended and replaced by her Vice President and political foe, Michel Temer, until a final decision is reached.
A "fin de siècle" atmosphere has pervaded Brazil as the country has descended into the moral abyss of Operation Car Wash, the corruption case that has engulfed the political class and the business community. This process has coincided with the collapse of the populist, statist socioeconomic model that has dominated the country under the Workers' Party for a decade and a half, first under Lula da Silva and then under Rousseff.
Although Rousseff was the head of Petrobras, the state-owned oil giant, when most of the graft took place, Operation Car Wash, a vast scheme of bribes exchanged for succulent public work contracts primarily related to that entity, has so far failed to produce evidence that she was personally involved. There is little doubt, however, that she turned a blind eye when the evidence of what was happening surfaced and that she has tried to protect some of those involved, including former president Lula, who is now largely running her government.