---
By Gabriel Gasave • Friday June 13, 2014 8:59 AM PST •
---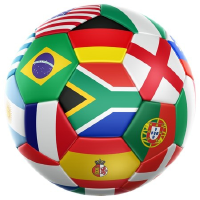 It's hard to overestimate the importance of the FIFA World Cup, which on June 12 kicked off its 20th tournament, this time in Brazil. Every four years this event captures the hearts and minds of hundreds of millions of soccer fans around the globe. And like the Pied Piper of Hamelin, flags and national anthems align the masses behind their countries' respective teams.
As in the Olympic Games, the athletes' individual names and surnames will give way to national affiliations. No longer will the individual player who won the medal, dribbling the ball skillfully down the field or scoring the winning goal, get his due credit. Instead, a collectivist mindset will co-opt the victory by celebrating, not the achievement of talented individuals, but the reflected glory of a winning team's home country.
Don't mistake me for an enemy of soccer; I'm not. I believe that most of the time it's a healthy and fun pastime. But when it triggers primitive, nationalistic feelings, an ugly side emerges.
The World Cup often unfolds more like a battle than a game. Thirty-two national teams fight it out on the playing field using high centering passes and penalties in place of mortars and missiles. The enemy is: a different country, a different language, a different set of customs, a different group of people with a different look. It is exactly the same mentality that erects border fences and requires mandatory passports.