---
By John R. Graham • Thursday January 9, 2014 12:31 PM PDT •
---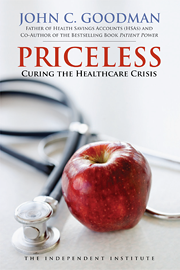 I've written about sky-high hospital prices in this blog, especially for uninsured patients who present at emergency rooms. A related issue is price transparency. In most normal transactions, it is not hard to discover the price you will pay for a good or service. Indeed, for most ordinary items, prices are posted and we do not even spend much time negotiating.
For much of health care, this is untrue. It is usually very difficult to learn the price of a service from a doctor's office or a hospital before receiving treatment. Doctors and hospital managers will often reply that they don't know what the right prices are either, because charges are subject to adjudication by insurers.
When uninsured (and, increasingly, insured) patients are shocked by bills they receive after treatment, they often balk at paying inflated charges. This results in bad accounts receivable for hospitals, which I have argued is a necessary pain to cause hospitals to change.
While everyone outside the health sector agrees that more price transparency would be beneficial, others often propose solutions that increase government regulation. One example is a recent report written by the Pacific Business Group on Health, a group of large employers in Northern California.
Tags: Business, Healthcare, Insurance, Price Control