---
By Alvaro Vargas Llosa • Tuesday October 20, 2015 4:48 PM PST •
---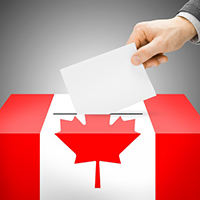 It is not yet clear if the political sea change that has taken place in Canada will also be ideological. Under the leadership of Justin Trudeau, the 43-year old neophyte who has never held an executive post, the left-of-center Liberals have unseated Stephen Harper's Conservatives with an overwhelming parliamentary majority that no poll or commentator had predicted. They will have virtually a free hand to govern.
But there are two problems. One: the Canadians have not necessarily voted in these elections, dominated by character and personal issues, for a lot more government intervention. Two: Trudeau—who has promised to preserve a big chunk of Harper's legacy, including tax cuts, free-trade agreements and support for major oil-related projects, including the Keystone XL pipeline that has met with such resistance across the border—wants to have it both ways. His otherwise interventionist agenda is incompatible with Harper's legacy on fiscal policy, taxes and resource-related free enterprise.
Not that Harper was a free-market champion. His rhetoric was often much bolder than his actions, hampered by the fact that he had to govern with a minority in Parliament during the first half of his tenure—and that, in the wake of the financial crisis in 2008, they were temporarily influenced by Keynesian fiscal ideas.
Tags: Canada, canadian politcs, justin trudeau