---
By Robert Higgs • Monday July 25, 2016 2:14 PM PDT •
---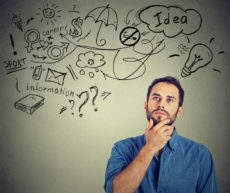 As elderly people get older they tend toward feeble-mindedness. Not in every case, of course, but as a general rule applicable to any given cohort. I am acutely aware of this tendency whenever I express an opinion or explain a conclusion: I may simply be losing my grip. Moreover, older people tend to become stuck in their ways. So they may often fail to see how the world is changing, not to mention why it is changing as it is.
With the foregoing declarations as my preface, you may wish to disregard what I now have to say, which is—if you've decided to stick with me—that I find many people's outlooks, especially my fellow libertarians' outlooks, touchingly sweet, innocent, and cheerful. Oh, they complain bitterly about all sorts of injustice and destruction, especially the instances perpetrated by the people who fancy themselves fit to rule the rest of us, but nevertheless my fellow libertarians, the younger ones in particular, tend to see the future as turning out much for the better. For them the present is akin to the situation that Wordsworth described more than two centuries ago:
Bliss was it in that dawn to be alive,

But to be young was very heaven!