---
By Vicki Alger • Monday August 14, 2017 12:22 PM PDT •
---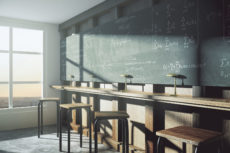 Are you now, or have you ever been, a supporter of the right of parents to choose their children's schools? Then you're a school choice deplorable.
At least, that's what some school choice opponents want us to believe.
It's no secret that President Trump and Education Secretary Betsy DeVos are long-time school choice supporters. Opponents are fighting back by portraying private school vouchers, and by association those who use or support them, as racist.
On the heels of DeVos' confirmation as Education Secretary, the "progressive" Century Foundation fired an opening salvo with a report suggesting that vouchers could hurt school integration. Shortly thereafter the also "progressive" Center for American Progress released a study proclaiming that the origins of private school vouchers are "racist" and their history is "sordid." A few days later American Federation of Teachers president Randi Weingarten referred to private school choice as a polite cousin of segregation. And just last month The New York Times ran a column purporting to expose what "government school" critics are really all about, namely, segregation.
But their strategy is backfiring in a big way.