---
By Sam Staley • Thursday September 15, 2016 5:00 PM PDT •
---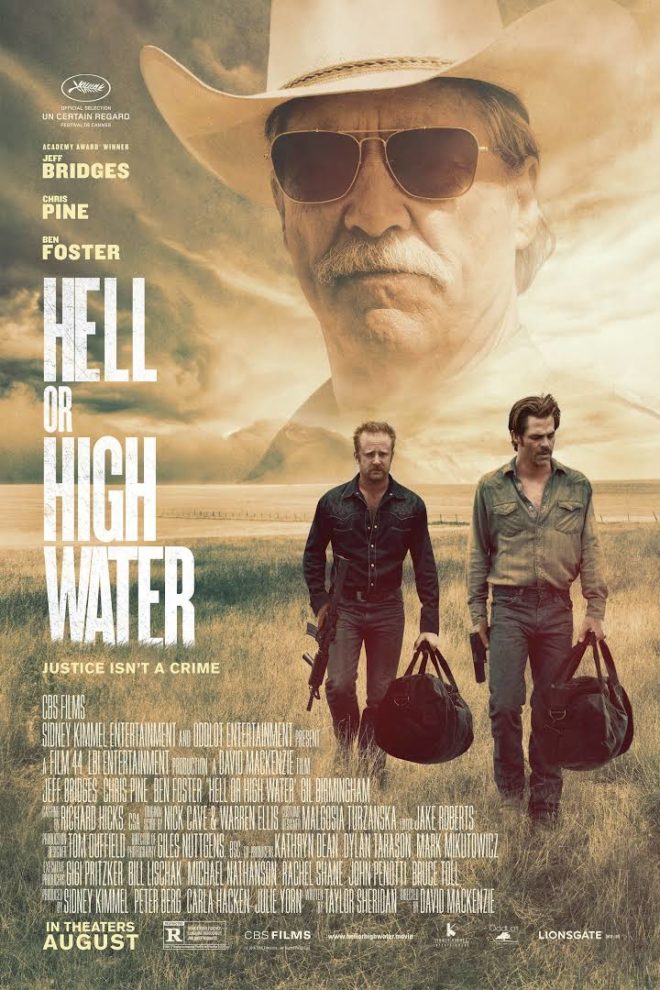 Hell or High Water, one of the most talked about films of 2016, is billed as a modern-day western, "heist crime," or Bonnie and Clyde. A contemporary western is more apt, and its excellent acting, steady pace, tight story and screenplay will likely make it an Oscar contender. The film also makes me yearn for a day when filmmakers learn economics, because they could use that knowledge to take stories to new levels. What is now a well-crafted genre Western could have become a much better film if the screenwriters had eschewed the self-righteousness of the Occupy Wall Street crowd and given everyone humanity and dimension, not just the thieves and police.
Hell or High Water is low-budget film ($12 million production budget) with high production values, enlisting the acting chops of veteran actors Chris Pine, Ben Foster, Jeff Bridges, and Gil Billingham among others in only a slightly updated cops-and-robbers buddy film. Pine and Foster play brothers—Toby and Tanner—who set off to rob banks to save the family farm from imminent foreclosure by the local bank. Tanner, the rebellious older brother, has just been released from prison for killing their abusive father, and he provides a fitting contrast to the more cerebral and pacifist Toby, who plays the role of the dutiful son.
The two brothers execute a well-planned series of robberies focused on a regional bank's small town branches, taking the cash from the drawers to avoid larger bills that could be traced. Crusty Texas Ranger Marcus Hamilton (Bridges) is put on the case with his mixed race (Comanche and Mexican) partner, Alberto Parker (Billingham). Hamilton is intentionally offensive, tossing off-color jokes to goad Parker, creating a tension that offsets the brotherly commitment that bonds Toby and Tanner. But it works as the partners come to accept each other's foibles in their relentless pursuit of the brothers through West Texas.
Tanner, however, is near psychopathic, riding the rush of the heists, his familial loyalty barely keeping him in check. Only Toby's genuine compassion bridles his older brother, who appears to be a hair's breadth away from becoming a modern-day version of the murderous Depression Era outlaw Clyde Barrow. This delicate balance between violence and deference to his younger brother's vision for the robberies—steal just enough to pay off the debt and back child support for his ex-wife and sons—keeps the brothers' relationship on edge as each robbery ratchets up the stakes with higher levels of violence. In the end, as the Texas Rangers and local law enforcement close in, Tanner and Toby are forced to make choices that can potentially save one brother but not both.