---
By Vicki Alger • Thursday August 31, 2017 11:37 AM PDT •
---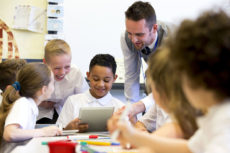 This week the Illinois legislature passed legislation creating the country's 18th tax-credit scholarship program, and the bill is on its way to Gov. Bruce Rauner, who's said he'll sign it. UPDATE: Gov. Rauner signed the bill (see here).
Officially called the Invest in Kids Act, Illinois' flagship tax-credit scholarship program was passed as part of a compromise school funding bill. (See SB 1947. On the lengthy legislative battles, see here and here.)
Unlike voucher scholarships, which are funded by government appropriations, tax-credit scholarships are privately financed through donations to non-profit scholarship organizations.
The Invest in Kids Act makes students from low- and moderate-income families eligible for scholarships, which are scaled based on family income. When awarding scholarships, non-profits must give priority to low-income students, students in districts with poorly performing public schools, called "focus districts," and siblings of scholarship recipients.
Scholarship amounts cannot exceed the lesser of necessary private school costs and fees, or the statewide average public school operational expense per student, which averages just under $13,000. Scholarship limits are higher for special needs, English learner, and gifted/talented students.