---
By Randall Holcombe • Friday June 2, 2017 9:46 AM PDT •
---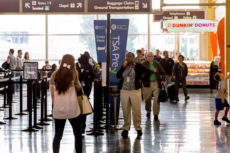 What happens if the TSA catches someone with a firearm at one of their checkpoints? It happens a lot. Last year the TSA found 3,391 guns in carry-ons at checkpoints. This happened to a friend of mine this week. Here's what he told me.
He and his wife were going through the TSA checkpoint to go to their flight when the TSA found a handgun in her purse. She carries it regularly and had forgotten to leave it home before her flight. The TSA allowed my friend to take his wife's handgun back to their car in the airport parking lot. A TSA employee accompanied my friend to the car and watched him lock the handgun in the car's glove compartment. They then left on their flight, gun-free.
My friend's story reminded me of another story I'd read in the news a few months ago. Guitarist Rick Derringer had been found with a handgun at a TSA checkpoint, was charged, pleaded guilty and was fined $1,000. Some people are charged; some they let go.
There are several differences in the two cases, including the fact that Derringer actually carried his gun on a plane and the TSA discovered it after he arrived in the US on an international flight. Also, Derringer claimed to have carried the gun regularly on past flights, whereas my friend's wife forgot she had it in her purse. But, if she'd gotten past the checkpoint with the forgotten gun, she also would have carried it on the plane.
I'm not passing judgment here on the TSA, Rick Derringer, or my friend's forgetful wife. I'm just passing along this story because I thought it would interest some readers of The Beacon.