---
By Alvaro Vargas Llosa • Monday July 28, 2014 9:20 AM PDT •
---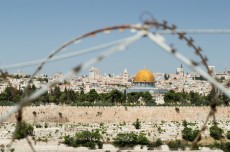 Secretary of State John Kerry was right to call Israel's Operation Protective Edge against Hamas "a hell of a pinpoint operation" in an apparently private comment that had the hallmark of a diplomatic move aimed at putting pressure on Tel Aviv. Except that he was referring ironically to the military aspect of the operation, and it is the political aspect that truly expresses the "pinpoint" nature of what Israel is doing—without the irony.
Israeli Prime Minister Bibi Netanyahu's precise target is the alliance between Fatah—led by Mahmud Abbas, the president of the Palestinian Authority—and Hamas, formed in April after seven years of conflict in the occupied territories. His strategy has always been to make unviable any Palestinian entity (let alone the possibility of sharing the same land with the Arabs under equality before the law). His tactics are at the service of that strategy. All he needs is to gain time until the "fait accompli" makes things irreversible. Operation Protective Edge serves that purpose.
Netanyahu knows three things work in his favor. The nature of Hamas, an organization that has engaged in terrorism, makes the atrocities arising from the land, air, and naval attacks easy to justify with the argument that the Palestinians use civilians as shields and that leaving their capability intact will expose Israelis to rockets. The tragic Jewish history confers impunity on Tel Aviv's authorities: criticizing Israel can easily be construed as anti-Semitism. Finally, no U.S. administration can afford, domestically, to really distance itself from Tel Aviv.
Let's remember how we got to Operation Protective Edge. In July 2013 the Obama administration launched a Middle East initiative and set a nine-month deadline for Israel and the Palestinians to reach an agreement. But the Israelis continued to expand the settlements (thousands of permits for new units were issued). When the deadline was near, Netanyahu reneged on his commitment to free hundreds of prisoners. He got the response he wanted from Abbas, who gave up and engaged in unilateral initiatives aimed at conveying the impression that the Palestinian Authority, which gained observer status at the UN in 2012, is a state in process. It was only a matter of time before an incident would trigger violence in Gaza, which houses not only Hamas but also a wing of the ruthless Islamic Jihad.
Tags: Israel, Land use, Middle East, Military, Nationalism, War