---
By Abigail Hall • Wednesday June 24, 2015 6:31 AM PDT •
---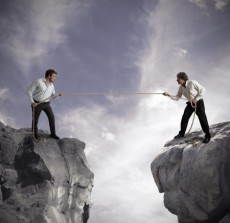 Writing popular press pieces, you open yourself up to a lot of criticism. If you write about economic topics, you might as well be waving a red flag in front of a bunch of Spanish bulls. Without a doubt, I've received my fair share of critical commentary, been accused of pushing all kinds of agendas and being the worst of both political parties. Some comments, though, are pretty creative. Some of my personal favorites include,
"The author probably isn't smart enough to tie her shoes."

"The author is clearly a socialist." (I was writing a piece which, in fact, was highly critical of socialism.)

"Someone forgot her meds this morning."
I am not alone in my experience. Though these types of comments are often worthy of a smirk or occasional chuckle, some aren't as amusing. I was once discussing reactions to popular pieces with another colleague who writes a regular column for a popular outlet. He stated that most comments don't bother him. The exception was one commenter who, in responding to a policy piece, stated he hoped my colleague's wife and children would die in a car wreck.
Tags: Civil Liberties, Free Market, Liberty, Personal Liberty, Rhetoric